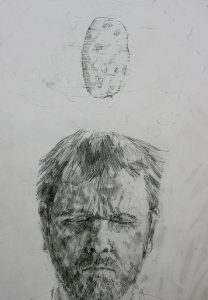 I'm an artist working in the North-West of England who specializes in painting, drawing and intaglio printmaking,
My practice is, in part, a surreal and darkly humorous commentary on the anxieties and absurdities of modern life, where animals and people appear in increasingly strange and unlikely scenarios; such as chasing each other endlessly around the kitchen table or clambering over rooftops above the terraced streets of my hometown, Preston.
Aside from this, I habitually returns to still-life paintings of old toy cars and lead animals, broken teapots, rusty paraffin lamps and other, seemingly worthless, household junk; finding much to celebrate in these forgotten remnants of people's lives.
My work is partly biographical, evoking half forgotten memories and events, a series of on-going visual narratives that drift between comedy and tragedy, reality and fantasy, the past and present.
Solo Exhibitions:
Adventure in the Northern Landscape
Stockport Art Gallery, Aug-Sept 2014
Simon Plum: Solo Exhibition
Parsonage Trust, Didsbury, May-June 2014
Down the Garden Path, drawings & etchings
Harris Museum, Preston Feb-April 2013
They Eat Culture: Salon Event
The Continental, Preston, March 2010
A Different Perspective
Blott Art Studios, Blackpool, June 2009
Selected Group Exhibitions:
Lynn Painters Stainers Prize 2019, Mall Galleries, London
ING Discerning Eye Exhibition 2017, Mall Galleries, London
ING Discerning Eye Exhibition 2016, Mall Galleries, London (Winner Of Regional North of England Prize)
Ruth Borchard Self Portrait Prize 2015, Kings Place Gallery, London
Adventures in a Northern Landscape, Lytham Heritage Centre, Sept 2015
ZZ2Z, Aa2a print exhibition, PR1 Gallery, Uclan, Preston, Dec. 2014
Beyond Appearances -Diversity of Drawing
Oxheys Mill Studios, Preston, July 2013 (also curator)
Printessentials
Artlab Contemporary Print, Astley Hall, Chorley, May-June 2012
Dogs in the Picture
Corte-Real Gallery, Paderne, Portugal, March 2012
Drawing Perspectives
Everyman Art Gallery, Chorlton, Sept 2011